Site Updated: November 2004
---
24 Hours A Day, Seven Days A Week, 365 Days A Year. Tune in for the BEST Straight Ahead BLUES in the State of Connecticut. It's the real BLUES by the real people. Your Cool Host is Dr. Bill.
Link To: Featured Artist
e-mail: blues_dr_bill@hotmail.com
A word from Dr. Bill. Keep The BLUES Alive And Well. Remember that this great American music called the BLUES is an uplift in spirit. That's what it is all about. The BLUES ain't nothing but a good feeling. If your down play some BLUES. The BLUES will make you feel good. Support your local, regional and national acts. Keep diggin those BLUES.
Listen to BLUES Music on this Link - Click to continue from page to page, for more great BLUES Music from some of the great artist that are featured on BLUES AFTER HOURS.

"Keep The Blues Alive And Well"
---
Shake The Mojo

A Mojo Is A Voodoo Magic Charm.
For Your Sexual Healing:
A Black Cat Bone Wrapped In Cotton Wool, Fixed In A Red Flannel Bag And Dressed With Mojo Oil And Alligator Foot
---
"The Blues is uplifting music" Phil Wiggins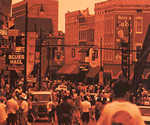 Memphis Tennessee-Photo by: Yancey Allison / Albert King-Photo by: Stanley Livingston (Ann Arbor)
Site by: Jabez Web Design 2001, Contact: jabez@optonline.net